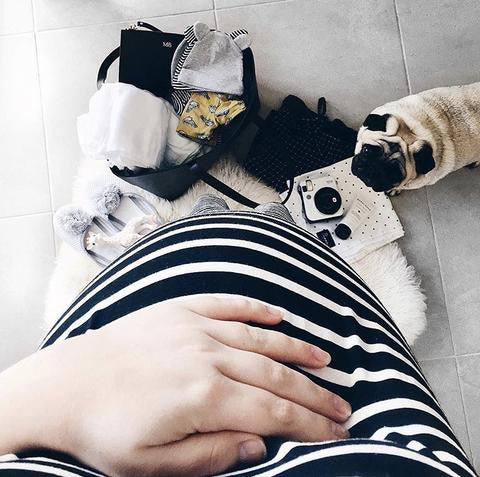 We're used to seeing Madeleine Borgersen's epic lifestyle, beauty and technology finds over on her blog The Daily Mark, so it was no surprise that when we asked her to create the ultimate hospital checklist for birth, she REALLY delivered (excuse the pun). Madeleine is due next month with her first babe, and you can follow her pregnancy journey (and bask in her gorgeous feed and finds) on instagram at @thedailymark or via The Daily Mark blog. 
Over to Madeleine:
Preparing for the big day can be both exciting and nerve wracking. It's like packing for a holiday to a destination you've never been to. Here are a few must-packs for labour and delivery, your stay and your new additions first few days to get that hospital bag packed in no time!
For Labour
Your A-Game Tee (aka something comfy to give birth in)
Your hospital should allow you to wear what you'd like during labour and birth (NB: some will ask that you wear a hospital gown if/when you're having an epidural). Think something loose and comfortable, whether it's your XXL Beyonce tour t-shirt (because obviously every other size was sold out) or a lightweight wrap or dressing gown make sure you're ok if you have to sacrifice it to the birthing gods after the fact. Things can get a little messy.
Mints & Lip Balm
Apparently labour can make your breath turn a little less than pleasant and lips dry out like nothing else, so pack a few mints and a favourite lip balm to keep you feeling fresh. I'm packing the Lanolips basic balm as it's multi use and can be used as a lip conditioner or nipple balm, or even a make-do moisturiser if you forget everything else!
Slippers or Thongs
Labour can involve a lot of walking up and down corridors to get that little one moving. Or you might opt for some in-shower time to ease the pain. Stash a pair of thongs for labour and comfy slippers for the rest of your stay.
Wallet & Paperwork
The important stuff. If you haven't completed your admission to the hospital online, remember to pack your admission paperwork as well as your antenatal card so your labour and delivery staff have all the information they need about your pregnancy to date.
Camera, Charger & Memory Card
No one wants to forget those first precious moments. Pack your good camera to ensure you get at least a few sweet snaps on that first day.
Phone Charger
Whether it's to kill some time between contractions or to make those exciting first phone calls to let everyone know the new family member has arrived, don't forget a phone charger to keep your mobile alive.
For Your Stay
Day Wear/PJs
Don't pack your party outfits for the days after birth. It's more of a slouchy t-shirt and elasticized pants situation as your body starts to scale back in and your top half becomes a working dairy. Opt for button up PJ styles to make skin on skin time or breastfeeding that much easier.
Breast Pads
Whether you're opting to breastfeed or not your milk will start to come in which can cause leaking. Grab some breast pads to take with you to keep that situation sorted.
Maternity Pads
Oh yeah, down there will be a mess too. Opt for the longest, most absorbent maternity pads you can find and failing that, a pack of Depends could be a great choice for those first few days too!
Toiletries & Basic Makeup Bag
Think less Louboutin lippie and more Dry Shampoo and Concealer. Pack your toothbrush, and some travel sizes of your favourite shampoo, conditioner and body wash to take your post-birth shower to the next level. Want an extra treat? Pack your own towel if you think the hospital's might be a little harsh.
Going Home Outfit
Leave your tightest outfit at home, it will take a little longer than your hospital stay for everything to find it's way back. Think loose, comfortable and something that makes you feel amazing for your first trip out into the real world.
 For Baby
Clothes
Depending on your hospital, clothes for bub might be provided during your stay. Others recommend bringing along some of your new purchases over picking from the standard issue clothes that the hospital has on offer. It's up to you! If you'd like to bring your own, a few onesies should do the trick, you can always send them home with your partner to get them nailing that increased laundry load from the very beginning.
Wraps
Muslin or light cotton for the warmer months and a heavier fabric for those winter nights.
Breast Pump/Bottles
If you're considering pumping, bring your breast pump with you to the hospital to get advice from the lactation consultant on your chosen pump rather than one of theirs. Wanting to go straight to formula? Pack some bottles with you instead of using the disposables at the hospital. That way, if that brands particular nipple isn't working, you can send someone out for another option before getting home.
Bath Oil
On your third or fourth day it will be time for bub's first bath. Pack a bath oil that's natural and perfect for their sensitive skin like Jurlique's Baby's Calming Massage Oil.
Comforter
Especially important if you have pets at home. Packing a cotton comforter like the Kippinsrange can be a great way to get a piece of your new addition's scent to introduce them to their fur-siblings before they make their way home. Simply place it with your baby during your hospital stay for an hour or two and send home with your partner. Introduce the comforter to your pet, allow them to smell, but not take it as their own. Now there'll be no need to fret over all those new smells!
Nappy Bag
Make sure to have your nappy bag either with you or in the car for your pickup for anything you might need between the hospital and home. You're a mum now after all.
Car Seat/Capsule
Before you're allowed to leave with your new addition a nurse will check you have a car seat or capsule properly fitted in your car. Make sure you have one selected before your due date and get the base fitted so the capsule can be popped in before your pickup.