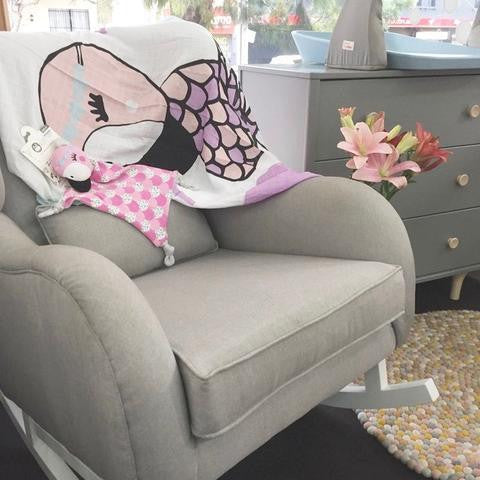 Beaches, shops, that laid back Sydney vibe that you won't find anywhere else. We absolutely LOVE the Sydney suburb of Bondi and a visit to the best baby store in the area is an absolute must! Pop into our stockist Baby Village for an amazing selection of big name and hard-to-find brands like Bugaboo, Love to Dream and Jack n Jill. A word of warning though, prepare to spend a few hours soaking up the goodies in store. We spoke to Director, Jess, about her store and what makes Bondi so special. 
What's behind the nameBaby Village?
 It's birth was inspired and created by family, and is built around the Village ideal, building a community of customers  
Describe your store in three words
 Boutique, Community, Inspirational
If you were a Kippin, which one would you be and why?
River Kippin, because he reminds me of Byron Bay - a place I love to visit and chill out
How do you choose the brands you have in store?
I look for unique brands that you can't find everywhere, that enrich both Mum's & Bub's lives together.
What's been the best part about opening your store?
(Technically we took over an existing store) but the best part has been getting to know our lovely customers and their new bubs.
What kids trends are you loving at the moment?
Loving the trend back towards natural, simple things - like wooden blocks.
Tell me what your town is like in three words. 
Sydney is a great mix of beachy, sophisticated and fun!
Describe the vibe of your local kid and mama tribe. What are people buying?
Our Mamas (and Papas) are very engaged and down-to-earth parents and parents-to-be. They are buying a combination of traditional and new, innovative products. 
Here's our top picks you can find in store and online!
1. Brio Ride On Daschund$139.99
2. Billie Kippin Organic Cotton Cuddle Blankie $39.99
3. Stokke Sleepi Cot/Bed $1329
4. Love to Dream Sleep Suit 2.5 Tog $69.99
5. Kippins Coco KippinTale Organic Cotton Muslin Wrap & Snooze Blanket $34.99
You can visit Baby Village in store at:
90-94 Ebley Street
Bondi Junction NSW 2022
Or shop online!