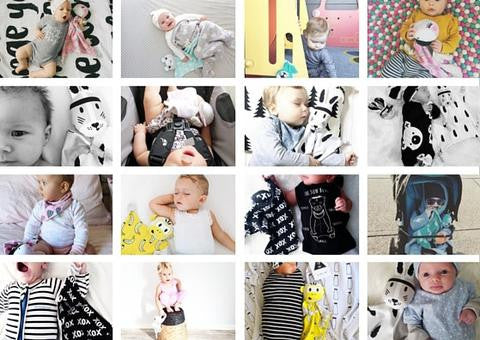 Crying, fussing, teething. Definitely NOT sleeping. We've all been there when babe is having a bad time! This parenting gig can be a huge stress, and anything that can make life easier is a win, right? Enter Kippins, the 100% organic cotton, portable, machine washable little friends that keep baby happy so that you can get on with doing allll the things!
So what's this Kippins biz about? Around 6 months of age, babies tend to pick something that helps them to self-soothe. This can be a thumb or dummy, or something completely random like their sleeve!
A comforter (sometimes called a blankie, knuffeldoekje, lovey, security blanket...we call them Kippins!) is a parent controlled way for baby to self-soothe - a constant companion that doesn't change. Unlike many traditional polyester comforters, Kippins are 100% organic, right down to the inks and are perfect for that gentle new skin. 
Parents like to use their Kippin as part of a sleep routine, and they become a signal to baby that it's time to get some shut eye! You baby's Kippin will join them on jaunts in the car, can help them drop a swaddle (giving busy hands something to focus on), and those self-tie knots are perfectly safe and nasties free for little teethers. Our Kippins are independently safety tested, so you can introduce your Kippin early on so that your baby gets used to them being around.
You'll find your baby develops their own special way of interacting with their Kippin. One of our Kippiny friends  reports that their baby sticks his Dash Kippin's ear in his ear to go to sleep. Another says that their babe loves a car ride with Kitty Kippin's paw wedged between those new toothy pegs. 
It's a beautiful Kippiny friendship. 
View the collection, explore Kippi and Shop Kippinsnow.