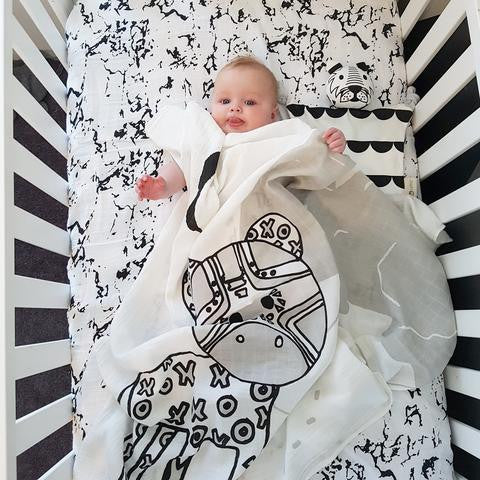 Hey legend! Yeah, there you are! Snaps for choosing products made using organic cotton and water based inks. Here's a high-five from Mother Nature (and your babe!) from us.
Now that you've got your delicious organic goodies we wanted to share with you our TOP FIVE tips for keeping them looking amazing using natural, non-toxic products that are gentle on skin.
A lot of washing products contain harmful chemicals which stay in the fabric long after washing (meaning when babe is squeezing and chewing, they're chewing those as well) and aren't so gentle on the environment.
You'll find that these products fuzz and stiffen up your cotton, fade your beautiful water based inks and generally give your Kippiny friends a hard time! They can cause irritation in sensitive new skin too. 
We LOVE the range from Ecostore for a gentle-on the-planet and skin friendly wash that will keep your goodies on point!
Load up on eco-friendly washing assistants! (That's the amazing products from Ecostore below, and not your kids – just yet). We've fallen in love with the natural botanical and fruit scents!
Choose a cold wash. Not only is a cold wash the gentlest way to wash organic cotton, but it also conserves energy!
Washing toys? Use a lingerie bag. Chances are you have one of these hiding in a cupboard somewhere! For toys with arms, heads and legs we recommend popping them in one of these before you pop them in the wash. It helps protect them from anything that might snag (think zippers, studs and velcro), and from extra weight being placed on joins when they're in the wash cycle.
Dry naturally. The dryer is convenient and we do use it when we need things in a flash. But good old-fashioned air and sunlight is a Kippins' best friend!
Embrace imperfection. The beauty of natural fibres is that they will look loved over time. This means that you won't always be able to renew your products to just-bought perfection. Our take? This is the best part of choosing organic – they're signs of a life well lived.
Ecostore Essentials:
1. Ecostore Soaker and Stain Remover (from $9.99)
2. Ecostore Fabric Softener(from $7.49)
3. Ecostore Laundry Liquid(from $7.99)
4. Ecostore Laundry Powder (from $6.99)
Want to know more? There's some great tips for a healthy, happy home on the Ecostore website.