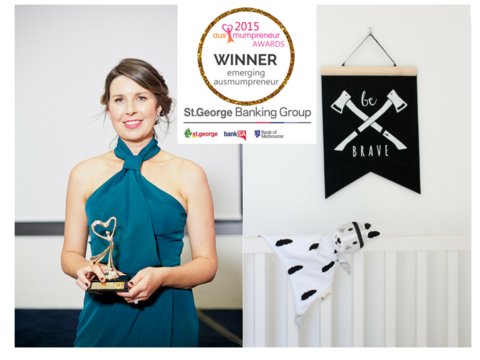 Our Chief Kippin, Heather Rowland has been named the 2015 St George Banking Group Emerging AusMumpreneur of the Year. 
The Awards recognise mums in business, and the Emerging AusMumpreneur category assessed overall business success for businesses operating for less than two years.
After just one year in operation, Kippins is now available in 12 countries through 90 stockists and business is rapidly expanding. 
When she's not designing Kippins and managing growing business, Heather is a full-time mum to a one and three year old. She founded Kippins in 2014, fear spending a year designing and researching her range of modern organic cotton baby comforters. 
"I was pregnant with my eldest son and terrified I would never sleep again! A friend told me about comforters and what a great tool they can be for settling and sleep," she says. "I went on the search for one that ticked all the boxes - cool, fun, organic and ethically made - but nothing fit the bill."
Inspired by a love of books and nature, Scandinavian design and wild imagination, Heather set about designing the GOTS certified range, which is now manufactured ethically in India.
"Each face is hand illustrated using simple shapes that help stimulate a newborn's eyesight. The organic cotton is super soft and the organic inks are gentle on new skin. They're also perfect for babies with skin conditions such as Eczema," Heather says. 
"Capturing the expression on the face is so important - each of the Kippins have their own personality and they really do become your baby's best friend. We aim to develop positive relationships between children and animals from the very beginning and it's why wild and domestic animals are included in the range."
Attachment to a comforter has been shown to help assist healthy emotional development in babies and infants. 
"It's very special to have a product that can help parents get a little more sleep, make the day easier and their little ones happy," Heather says. "