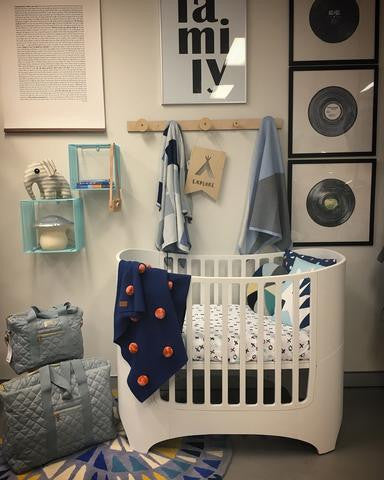 We're kicking off a new series of blogs where we get to know more about the amazing retailers who stock our products.
First up is Tip You're It! Based in Australia's capital city, Canberra, this store is chock full of amazing finds for babies and kids. We spoke to owners Che and Trev about what makes Tip You're It! the must visit baby and kids destination store in their part of the world. 
Tip You're It! owners Che, Trev, brand new baby Finn and little Evie
Tell us about Tip You're It!  It is a lifestyle concept store for kids. Inspired by our own parenthood journey, all our favourite brands now sit together under the one roof. Your Instagram feed wrapped up in one place.
What's behind the name? Picking a name was really hard! We wanted a name that would not date and also translate for kids of all ages so we started to look at games we both played when we were younger ...... Tip You're It! was born.

We wanted our brand name to be fun and remind customers (parents/grandparents) of their own childhood.
Describe your store in three words. Cool, Unique, Friendly

If you were a Kippin, which one would you be and why? We'd be River...we're all about making the world a better, brighter, more beautiful place.
Baby Finn with his favourite Kippin, River. 
How do you choose the brands you have in store? The idea behind Tip You're It! was to bring the brands that we love to the Canberra market. We are always on the hunt for fresh and exciting brands from the local, National and International designers - we spend hours on social media!! We get to a few trade shows throughout the year but Instagram is a virtual trade show every day of the year.
What's the best part about owning your own store? Knowing the background story and origin of every single piece we sell. The friendships we have created with our customers as they went through their journey of falling pregnant to seeing them come through the door with their little bundles. The passion of building something for our kids to be proud of gets us out of bed seven days a week.

What kids trends are you loving at the moment? With the freshness of Spring/Summer stock coming through, we are loving the splashes of colour in both fashion and décor - which complements the super cool monochromatic, unisex vibe that the kids industry has done so well over the past couple of years.

Describe Canberra in three words. Best kept secret.

What's different about Canberra kids? Canberra kids get to experience all the seasons - so in terms of fashion trans-seasonal lines are always in demand. Blankets, wraps and lots of layers. Whether it's furniture, décor, fashion or gifts, the Canberra customer knows their stuff and are usually very well researched.
Coffee or Wine? One before midday; the other after.

Tip You're It! Is located at