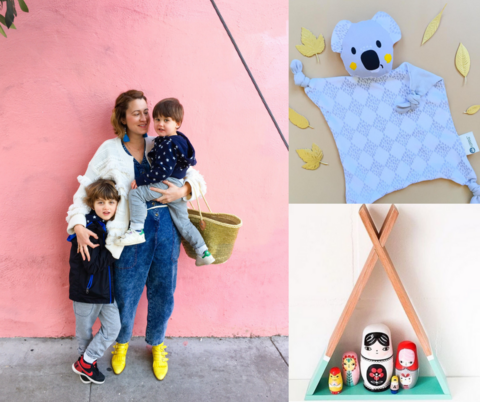 Sunday in Color was one of our original Kippins stockists and we love the bright range of hard-to-find goodies in their online store! Based in San Francisco, you'll find treats from brands like PSIKHOUVANJOU, MERI MERI and HOMELY CREATURES which you can shop from the comfort of your fave chair!
Here, we talk to the mama behind Sunday in Color, Sonia about her town and the inspiration behind her gorgeous store. 
Sonia: After 8 years as a communication specialist in France, my husband and I decided to move to San Francisco in Spring 2010. As a mom of two, one of the dreams I always had was to open my own shop selling beautiful items I would wear or decorate my home with. I created Sunday in Color in 2012 when my first son was 1. I am now a mom of 2 boys :)

So, we're totally coming to San Francisco! Where should we go?
My favourite spots in the city are:
- The Mill, a gorgeous coffee shop with delicious bread 
- Point Reyes for a week-end hike and maybe see some elks
- Flour+co, an American bakery with super good cookies
- ReLove, an affordable vintage shop with a great selection of items
Photo: The Mill, San Francisco
Photo: ReLove, San Franciso. 
What's behind the name Sunday in Color? 
It is very simple, when I was looking for a name, it was obvious that the common theme across all my products is color. Then I realised that my favourite day is Sunday, for me it's the perfect day for coziness, decorating your home and play with the kids. "Sunday in color" kinda summarises the best of both for me, a warm and colorful Sunday chillin' in my house. That's it!
Describe your store in three words
Colorful, unique, affordable
If you were a Kippin, which one would you be and why?
Banjo the koala, one of my favourite animals!
How do you choose the brands you have in store?
I focus on unique items that you might have not seen, handmade and ideally small brands, then it really is about the way I feel about a product. There is no item in the store I would not have in my home, it can be tricky sometimes because some items I really love might not sell and vice versa, so it is a endless hunt for the items I love hoping people will do too. So far, it's been a lot of fun.
What's been the best part about opening your store?

Sourcing new brands and items is really exciting. I am literally excited for my customers, because I know as a customer how delighted I would be. If I am able to find a small brand trying to develop itself and if I can contribute to their success by selling their items it is even better. I really have a lot of respect for the craft, so the more human and craft oriented the product is, the better.
What kids trends are you loving at the moment?
I feel like, baskets are really popular right now, all kinds of shapes and material. Recently I became obsessed with these Moroccan Wool Pots, they are so colourful, they are ones of my favourite home items.
Tell me what your town is like in three words. 
Windy, lively, organic
Describe the vibe of your local kid and mama tribe. What are people buying?
Especially in SF, people are looking for organic and modern clothing and toys. So, ethically sourced fabrics with a cute design are perfect. From SF, I love the brands Amae-co and Kirakids.
SHOP | sundayincolor.com

BLOG | Get Inspired

INSTAGRAM | @sundayincolor
FACEBOOK | Sundayincolor 
PINTEREST | pinterest.com/sundayincolor
TWITTER | @sundayincolor